March 2018 | Sky Pony Press
Friendship without drama? Dream on!
Jasmine has always been best friends with Kiara. They have a secret handshake, plan to open a joint Etsy shop, and even invented a salted caramel drink together at the local cafe. But when Kiara joins the basketball team, she starts to become distant . . . and then she betrays Jasmine's trust.
Jasmine has never felt so alone. Eventually, her mom forces her to join drama club―and it's much more fun than she expected! She starts to make new friends, including a very cute boy. Things are looking up!
But just as Jasmine is getting used to her new normal, there's a crisis with the play―and Kiara suddenly reaches out. Can the former friends help each other when they need it most?
October 2014 | Tautog Press
Are you in or are you out?
Joining social network Populatti.com let sixteen-year-old Livi Stanley trade her awkward middle school past for the social life of her dreams. Because Populatti isn't just a social network. It's a club, providing access to friends. Parties. And Livi's crush, star baseball player Brandon Dash.
Yet lately, online rumors have been threatening Livi's place in the group. And not even her friends are doing much to stop them. Leaving Livi to prove them wrong, and fast.
Before her life as a popster is over.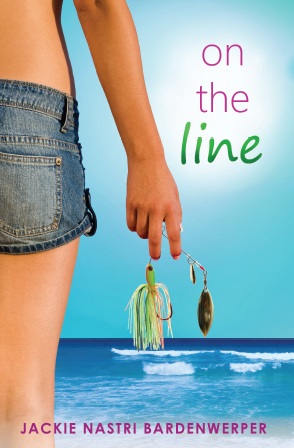 March 2012
Get Hooked
Sixteen-year-old Piper Wesley has always been better at hooking fish than guys. But with her best friend Benny by her side, she's never minded. And besides, her fishing skills have made her a celebrity in her hometown of Islamorada, an island paradise in the Florida Keys.
So when a slump in tourism threatens her family's fishing charter business, Piper recruits Benny to help her win a major fishing tournament and the $25,000 grand prize.
Except that now Benny cares more about hanging out with his girlfriend Marina than helping Piper. And he keeps disappearing, usually after something suspicious happens on the island. Add in Logan, a Michigan transplant with a growing interest in something other than fishing, and it looks like practicing will be anything but easy.
Leaving Piper to wonder how she'll win. And who will be there when it's over.